About Us
The Palisade Historical Society is dedicated to collecting, preserving, and communicating the unique history of this small, Western Colorado town which was settled in the 1890s.  We are a 501 (c) (3) non-profit organization, and depend on donations and volunteers for our efforts to preserve Palisade's history before it disappears. Please contact us if you are interested volunteering on a committee, or donating historic photos or other items. We can scan and return original photos to donors.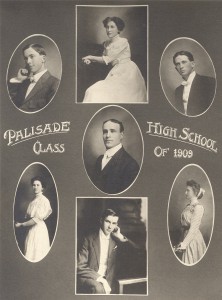 Annual memberships start at $25 for individuals, $50 for families, $100 for businesses, and $500 for patrons. A ten-year membership is $200, and lifetime membership is $400.
Our major capital fundraising campaign is for renovating a pre-1939 log building into a Palisade History Museum at the Bunte Shop  has reached about 90% of our $125,000 goal! It will be the permanent home for our collection of historic photos, documents, and memorabilia and will be open every week all year long, hopefully beginning this summer
Another important project is getting additional issues of The Palisade Tribune, our newspaper of record from June 6, 1903 until it ceased publishing in March 2014, preserved, digitized and added to the Historic Colorado Newspaper Collection website.  2,650 issues – including all issues in our archives from 1903 to 1950 – are now visible for searching or browsing at Colorado Historic Newspapers. We continue fundraising to get as many of the remaining issues on the data base as possible.
2021 – 2022 Board of Directors:
Susan Barstow, Vice Chair

Ralph Branch

Jaime Cox, Treasurer

Gay Hetland

Gary Hines, Secretary

Nancy K. Morrison

Priscilla Walker, Chair

Charlene Weidner
Useful links:
Colorado Scenic and Historic Byways-Grand Mesa
Sunrise Rotary Club
Museum of Western Colorado
Palisade Irrigation District
Green Barn Fruit Co.
Mesa County Libraries